Funky Management
Aug 26
Why U.S. Download Sales Peaked in 2011 -
Digital download sales are likely to increase again in 2013. But by one measure, downloads actually peaked in 2011. Download sales accounted for 73% of digital revenues in 2011 and fell to 70% last year, according to annual shipments tracked by the Recording Industry Association of America (RIAA).
 
Not that download sales have declined over the years. Track and digital album sales have each grown every year since the RIAA began reporting them in 2004. As a percent of total revenue — counting both physical and digital revenue as well as synchronization royalties — download sales rose to 40% from 36% in 2011; 31% in 2010; and 24% in 2009.
 
Nor have download sales declined in dollars. In fact, annual download sales continue to grow each year. Track and album sales grew by $235 million last year and gained a combined $912 million in the three-year period of 2010 through 2012. Download revenue is likely to grow again in 2013 by very low single digits.
 
Yet new business models are eating into downloads' dominance. Services such as Spotify, Pandora and SiriusXM grew by $405 million in 2012 and $1.22 billion in the three-year period of 2010 through 2012 — both much higher than downloads' gains. Another key factor: download sales growth has almost stalled this year after years of double-digit gains.
 
But downloads' grip on digital revenues will ease over time because subscription and streaming services are experiencing high growth rates. Subscription and streaming services grew by 69% and 59% in 2011 and 2012, respectively. Royalties from services that pay royalties to SoundExchange — such as Pandora, iHeartRadio and SiriusXM — grew by 58% last year. 
 
The market is clearly shifting toward streaming services. The numbers suggest we may be beyond the tipping point.
Aug 23
(Source: nanos-christmas, via hiphopkilla)
Aug 22
(via mimi-chanel)
Want To Perform at Rock The Bells?? 93.9 WKYS - Who Got Next? -
Rock The Bells is the biggest hip-hop music festival on the planet! It will already feature a who's who in hip-hop including the Wu-Tang Clan, Black Hippy, J. Cole, Big Sean, Common, A$AP Mob and, of course, DMV's own Wale and Logic but who's next? 
93.9 WKYS wants to give a chance for the DMV's next rap phenomenon to perform at Rock The Bells and take their career to the next level.
Click HERE for submission info.
How Ashamed Should You Feel About Using Spotify? -
In June, David Lowery, singer-guitarist of Cracker and Camper Van Beethoven, posted part of a royalty statement to his blog The Trichordist. Cracker's song "Low," he revealed, had been played 1,159,000 times on Pandora in three months; Lowery, in his capacity as the song's co-composer, was paid $16.89. For 116,280 plays on Spotify, Lowery got $12.05. Meanwhile, "Low" racked up only 18,797 plays on AM and FM radio stations during the same quarter. But for far fewer spins, Lowery received far more money: $1,373.78, to be exact.
Just last month, Thom Yorke of Radiohead and producer Nigel Godrich pulled their Atoms for Peace project off of Spotify, citing similar inequities in how music-streaming services pay artists. "Make no mistake new artists you discover on #Spotify will [not] get paid," Yorke declared on Twitter. "[M]eanwhile shareholders will shortly [be] rolling in it. Simples."
Maybe. Or maybe it's not quite as simples as that. The image of wide-eyed young musicians having their lunches eaten by rapacious corporations is pretty compelling, and the ongoing collapse of the record business makes it look even scarier. The week ending July 28 had the lowest total album sales documented since Billboard started using Soundscan to track sales in 1991.
But it's also worth considering who's paying whom when music gets streamed, and how that might change. Whenever you read a shockingly low number and worry about the fate of your favorite band, it's worth keeping three things in mind.
1) "The music business" is not the same thing as "the recorded music business"—especially for musicians. A recent survey by the Future of Music Coalition found that, on average, 6 percent of musicians' income comes from sound recordings. That's not an insignificant amount, but it's also a lot less than what nonmusicians might guess. (And, although there isn't reliable data from the pre-Napster era, anecdotal evidence suggests that the percentage has never been much higher.) Recordings are how listeners generally spend the most time experiencing music, but not how we spend the most money experiencing music. In practice, recordings mostly serve as promotion for the other ways musicians make money: performing, most of all, but also salaries for playing in orchestras and other groups, session work, and so on.
Aug 20
The Good Life.
(Source: fuckyeahstudioporn, via rellyrich)
Are You Guilty? – 4 Ways Indie Musicians Are Killing Social Media -
In an ideal world I would wake up in the morning to a fresh cup of hot coffee. I would enjoy it as I check my e-mail and skim social networks to check up on friends and my favorite bands.
I would immerse myself in an online community of music lovers, songwriters, and musicians sharing, caring, and building with each other… NOT blasting commands to "check out my new hottest thing".
I see enough billboards on the interstate.
In this world:
Bands would stop acting like rock stars and start acting like leaders
They would build self-sustaining tribes
They would listen to their fans
They would understand that growing organically will always win over view counts
As a music blogger, my inbox would NOT be full of one-liners and YouTube links I only see as distractions. Whatever happened to "connecting" with someone?
Unfortunately, this world does not exist. From where I'm sitting, the average indie band sucks at using social media and its ruining it for everyone else. Most importantly, your potential fans.
What are we doing wrong, you say?
Oh boy…where do I begin?
Me, Me, Me Marketing
You might have been raised in a world of billboards and commercials, but using social media as a one way street is killing your promo game.
It seems too many people are missing the social half of the phrase, social media.
You need to engage with fans and listeners instead of blasting them with links, videos, and nonsense about buying your album.
Sadly, most bands qualify [as what the marketing world refers to] as spammers.
Engaging is easier than you think and should come naturally (assuming you are not a recluse).
Share albums, videos, and news about other music you enjoy or local bands you play with.Ask others what they think.
Share news related to the music industry or issues that reflect the personality of your band and use them to

 

engage in conversation.
Instead of posting links to the same videos and songs repeatedly, post clips of the band working in the studio or upload a demo mix and allow fans to share their opinions so you can take the art to another level.

 

Involve fans in your process(es).
Network with bands

 

in other areas to create an atmosphere for gig swapping and collaboration as well as cross promotion of content.
This list goes on but the takeaway here is engage in a way that results in feedback and interaction.
Build a community.
Focusing on the wrong metrics
Your follower count means nothing unless you see conversions.
Huh?!
More important than a follower, view, or like:
How many fans have signed up for your mailing list?
Do you pass around a mailing list signup sheet at your show?
How many people have you met at shows? (You do hang out with the audience after the show…right?)
How many people have bought a CD or t-shirt?
Stop putting all your energy into increasing numbers on social sites and focus on converting the followers you have into loyal fans.
Use social media to funnel music listeners to your website where you attempt to convert them into a mailing list signup, song download, or merchandise sale.
Would you rather have 1,000 likes or 100 fans spending $1,000 on music, merch, show tickets and crowd funding campaigns?
Show me the money!
Chance the Rapper, with 'Acid Rap' Mixtape, Meets the Legal Black Hole Around Unsigned Artists -
Nearly a decade after the mixtape wars of the mid-2000s, the format still resides in an awkward limbo for retailers, distributors, artists and labels. Many retailers stopped carrying mixtapes after the RIAA proved litigious against the sale of unofficial releases, leading police raids on several retailers in 2005 and on the offices of DJ Drama in 2007. But mixtapes remain a critical promotional tool in the industry, particularly among hip-hop artists, where they often rival official albums. Outside the purview of the major-label system, sales of the format have persisted.
Last month, a mixtape album by unsigned artist Chance the Rapper available as a free download landed at No. 63 on Billboard's Top R&B/Hip-Hop Albums chart, having sold 1,000 copies in the week ending July 7, according to Nielsen SoundScan. The collection of original music, "Acid Rap," was sold through iTunes and Amazon, despite having been offered for free on the artist's website since April 30. After representatives of the artist claimed that the sales were being made without their knowledge or compensation, digital versions of the tape were quickly pulled from both retailers. But on Amazon, an apparently unauthorized physical version of "Acid Rap," credited to a company called "Mtc," continues to be sold at press time for $14.83.
"I've never heard of Mtc, so this has taken us by surprise," Chance's manager Patrick Corcoran says. "But when I first saw it I showed Chance, and his lawyers are trying to stop it."
(Source: stackpapersgetpaid, via questcalledtribe)
Aug 19
How The Hot 100 Became America's Hit Barometer -
Hear that? On the radio? That slick, dreamy crooner dude, singing about how he's going out of his mind over that girl? Well, she's an animal — baby, it's in her nature. He used to play around with hearts that hastened at his call. But when he met that little girl, he knew that he would fall.
Wait a sec … what song is this? Which dreamy dude is this? What year is this?
Perhaps it's the first week of August, 1958, when the top song in America was Ricky Nelson's "Poor Little Fool" — the first No. 1 song ever on the Billboard Hot 100. The week Billboardlaunched what would become the premier singles chart in America, the list was led by the smooth-as-milk Nelson, acting the part of a player who'd met his match—bewitched by a woman who, it turns out, is even faster than he is.
Fifty-five years later, to the week, we find the Hot 100 topped by "Blurred Lines," a ditty from the smooth-as-milk Robin Thicke. It's about a player who's … bewitched by a woman who's faster than he is.
So, yeah, gender politics in pop music have scarcely evolved in a half-century—plus ça changeand all that. (Trust: 28-year-old Ricky Nelson had swag. If he'd known in 1958 what a music video was, he'd have shot one with ladies in various states of undress, too.)
The better question is this: How is it that, half a century later, we still follow a chart called the Hot 100 to measure which songs are dominating our earbuds, our streets, our beaches, our dancefloors, our American lives? We don't listen to transistor radios anymore, or buy seven-inch 45-RPM vinyl (not in quantity, anyway). Why is this chart still around?
The Hot 100 was designed to adapt. It's a voracious creature, built to absorb whatever medium is delivering music to the masses at any given time. It's not perfect — any chart where Bob Dylan, Bruce Springsteen and Missy Elliott peak only at No. 2 can't be — but this chart, designed for the music business and followed by pop nerds like me worldwide, is still the best benchmark we have to measure the bigness of hits.
(Source: gregorysoreze, via cali-cocaine)
The Challenges Facing Musicians In 2013. Free Research Report. -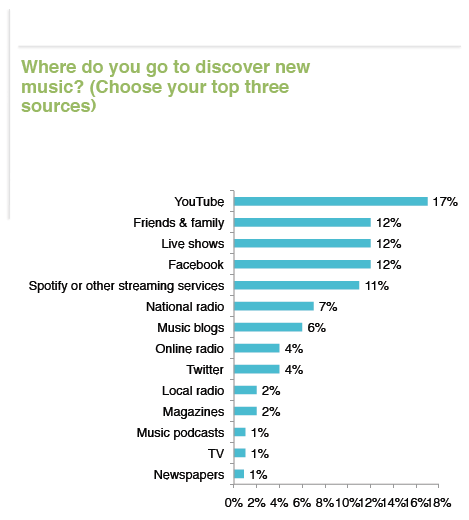 Back in June Right Chord Music launched The Big Survey in association with  Farida Guitars.  Our aim was to better understand the realities of being a musician in 2013. The online survey was completed by 200 musicians, of which three-quarters were unsigned or independent. Two-thirds of the respondents reported they had released at least one single.  The vast majority of respondents came from three countries: UK, Australia, and the USA.
Results highlight the increasing number of sites and services used by artists to promote their music. It's no surprise that Facebook dominates, but it's interesting to see the growing importance of Soundcloud and Bandcamp and the much heralded fall from grace of Myspace.
Just over one-half of the respondents reported paid live shows were the primary source of their monthly income. Digital download sales (13%) and CD sales (12%) were second and third respectively. Over six different incomes streams were reported. Although average incomes from live shows were not captured in this survey Right Chord Music would expect income from live shows at this level to be between £20-£50 per show, and a band to be playing a maximum of three paid shows within an average month. It's clear once income is divided up between 3-4 band members and petrol, parking, hire, and rehearsal costs are factored in, income does not necessarily mean profit.
Bedroom and DIY culture is very much alive and kicking, with just under one-half (49%) of respondents reporting they record all of their music at home. Twenty-eight percent (28%) reported they record demos at home before heading to a professional studio to add a professional touch to their work.
To professionally promote music costs money, Right Chord Music estimates between £300-500 for online PR, and £600-£850 for radio plugging for a minimum of two months. Then there is press and TV, the cost continues to rise. Based on these costs, and their unsigned status, it is no surprise that the vast majority (87%) of respondents in this survey reported they have to promote their music themselves.
Respondents reported over seven different ways they sell their music, with selling CDs at live shows remaining the most popular sales channel. Bandcamp's growing influence among the unsigned community is clear with as many respondents reporting they use Bandcamp as iTunes to sell their music. Ten percent (10%) of respondents reported they sell their music directly from Facebook.
When respondents were asked to highlight the biggest challenges they face as musicians two dominated: 'Getting our music heard' and 'Making enough money.' But equally noticeable is the large number of challenges they recognise and struggle to overcome. It is certainly not easy to be a musician in 2013.
To download your FREE copy of the full report visit: http://www.rightchordmusic.co.uk/faridaguitarresults
Aug 18
5 Tools to Make Your Life Easier as a Band Manager -
Band managers don't exactly have it easy. They'll typically book the shows, do the accounts, negotiate deals, promote the band, manage the merch, and provide a legal foundation for the band. In short, they're a jack of all trades, and in this post we're going to look through a few tools that can make a few of the tedious management tasks a bit easier.
#1 A tablet / good smartphone
With so much travelling around and going between meetings, a tablet is a handy investment for any manager. Not only does it mean you don't have to lug around a hefty laptop, but it makes your journey time a little bit more productive, as you can quickly edit contracts on the bus, or post social network updates on behalf of the band.
I'd also advise that if you're going to do anything copy-heavy e.g. writing blog posts, editing contracts, updating the band website, that you get yourself a tablet keyboard case, as they're great for speeding things up.
#2 A good lawyer & a set of contracts for every situation
As a manager, you're likely going to have to negotiate a number of deals for the artist you're working with. Many larger organisations in the music industry have exceptional in-house legal teams who can make your life very difficult if you don't know what you're doing. Find yourself a brilliant lawyer, and get a set of music contract templates so that you know what a standard agreement should look like, and why the deal you're negotiating differs.
#3 Use SaaS (software as a system) tools to save you time
Nowadays, there are so many SaaS platforms to save you time in every aspect of your career. Whether you use accounting software like Freshbooks, CRM software, or even music-specific platforms like Dizzyjam to print and manage your merch, SaaS can be a great way of cutting down the time you spend on tedious jobs, so you can free it up for the important stuff.
#4 Contacts, contacts, contacts
When it comes to management, who you know is important. Invest your time networking at music industry conferences to develop your network of contacts – you never know when you might need them.
#5 A Blog
In my experience, blogging is invaluable – yet it's impossible to predict why in foresight. I no of no blogger who hasn't seen the value in blogging, and yet few of the bloggers I know could have predicted why it'd become invaluable to them. Because of this blog, I've had my content featured in the Singapore music education syllabus, I've met countless friends around the globe, who have also become important contacts. Blogging is an excellent way of reaching more of the people you want to meet – whether that's for you as a manager, or for the band that you manage.
(Source: bricknblackson, via hip-hop-influence)